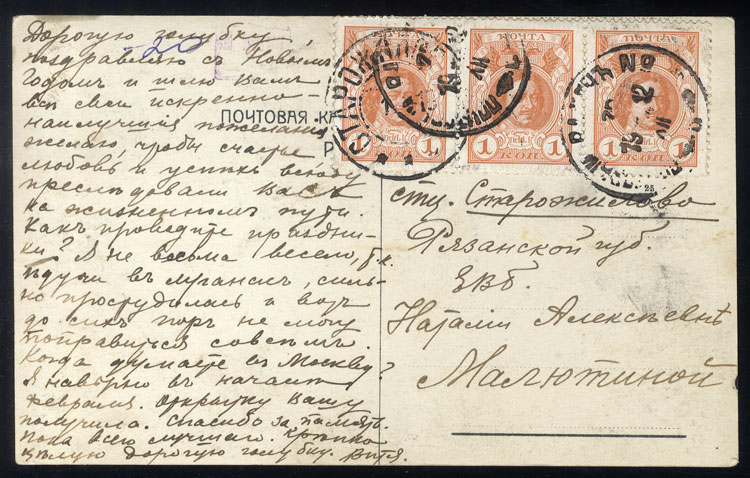 Figure 1 - Oldest mail recorded with some Romanov stamps: 30 December 1912
Postcard sent from a Travelling Post office to the small city of Starozhilovo in the Ryazan Gubernia.
3 days before the official first day issue of the famous commemorative set (!!!)
A stunning rarity for the Romanov specialist. Unique, ex Leonard Tann.

[ Author´s collection ]
The popular Romanov set strikes back again. I have written this year about a very rare earliest usage recorded of a Ruble value: 1 ruble Romanov adhesive cancelled on the 4th January 1913 (third day of use), one of three known. That item nevertheless pales in comparison with the postcard pictured above.
The Romanov set was officially launched on the 2nd January 1913. On the first of January, the post offices were closed to the public but incoming mail was treated by the postal clerks. In other words, the public could´t buy any Romanov stamp before the 2nd January, BUT those stamps were already available to the postal clerks in most of the post offices in Russia and, as well, Mandchuria [1] and Mongolia [2], as early as December 1912.
There are a couple of first day covers (i.e 2nd January 1913) recorded in the litterature with kopek frankings, as well as a handfull of extremely rare loose stamps cancelled in December [2]. The postcard above is absolutely exceptional. It is the only recorded usage on cover, to the best of my knowledge, of any Romanov adhesive in 1912 (Figure 1).
It was sent from a Travelling Post Office (postal wagon) to a small city in the Ryazan Gubernia. The sender wrote the message, and asked the postal clerk for franking. The later took what was available to him at the moment, picking up in a pile of the freshly delivered and ready-to-use Romanov sheets. Working in such a small office, he probably had only a short selction of values below the counter, excluding the 3 kopek, otherwise he would have logically picked up some of those 3 kopek stamps to complete the franking.
Then he cancelled the stamps with his TPO handstamp, dated from the day: 30 December 1912. The postcard travelled by train as expected and reached its final destination on the 1st of January 1913. The arrival postmark proves that the post offices, although closed to the general public, were indeed treating incoming mail on the 1st.
And as a result of this fortunate sending, we have today an amazing and rather unexpected item of Russian postal history.
Maxime Citerne
References
[1] Harbin 3.01.1913. Dr Casey collection. See David Feldman sale, December 2013 sale.
[2] Antoine Speeckaert: 35 kopek and 70 kopek cancelled Urga 21.12.1912
[3] Rev. Leonard Tann, "Three days early", in The Post Rider Volume 27:4-5, November 1990