The year 2012 is coming to an end and you are probably up to take some good resolutions for 2013.
Personally, I took a few resolutions regarding philately. First, to get a nice microscope for my expertizing 'department', since I am recently getting more and more sensitive material. Second, expanding my general knowledge by selecting a field that has nothing to do with Russian philately, and start reading and researching on it (Indian states, Bolivia classics or Vietnam postal history are on the list - the selection will be hard!). Third, to build a small holding of Zemstvo postmarks and cancellations, on and off covers, as a reference file.
Taking resolutions is certainly an effective way of 'keeping the ball rolling', avoiding a kind of lethargy that can come with a lack of life movement. Defining (realistic) objectives is an excellent way of improving everything in and around, as long as a fine balance between focus and relaxation is maintained.
Russian Post in Mongolia - Kobdo cover (Ex. Dr Casey, David Feldman auctions): Realized 384000€
Speaking of fine balance, I have been surprised by the unbelievable records fetched by the Dr Casey auction recently. Let's take for example the Kobdo cover illustrated above (lot 10157 - one of four covers known): my personal sensitivity (yes, nothing objective here) sees no point in paying 384.000 € (500.000$ !) for a single Mongolian cover ... and not even the earliest Mongolian known ... and not even unique. As an investment, it will probably take a looooong time before such a price could be doubled, if
ever
reached again. So where is the point? Anyhow those 'asian areas' records certainly highlight the current power of the Chinese market, and we can contrast them with the many unsold Russian
mainland
rarities from the Fabergé Spink auction last year.
This year has definitely been a breathtaking year for Russian philately: besides the fabulous items from the Raymond Casey collection, many other magnificent Russian holdings have been offered. Three exceptional Zemstvo sales (two by Cherrystone, one by David Feldman) have been held, offering a large array of superb and scarce material. It is very seldom that so much significant Zemstvo material is thrown on the open in one single year (last time it happened was in 1999). The prices reached for the covers - especially the rarest ones - confirm the strength of the postal history market; for instance t
he famous Akthyrka cover (one of two known from this Zemstvo district,
ex Fabergé
), fetched 62.500$, a record price for any kind of Zemstvo material.
I notice a weaker appeal for stamps as singles, multiples or sheets:
they were selling at higher prices a couple of years ago (this might change when the effect of the international crisis will fade away, letting the medium income class with more confidence in buying). In other words, it is a good time to complete your list of rare Zemstvo 'wanted'.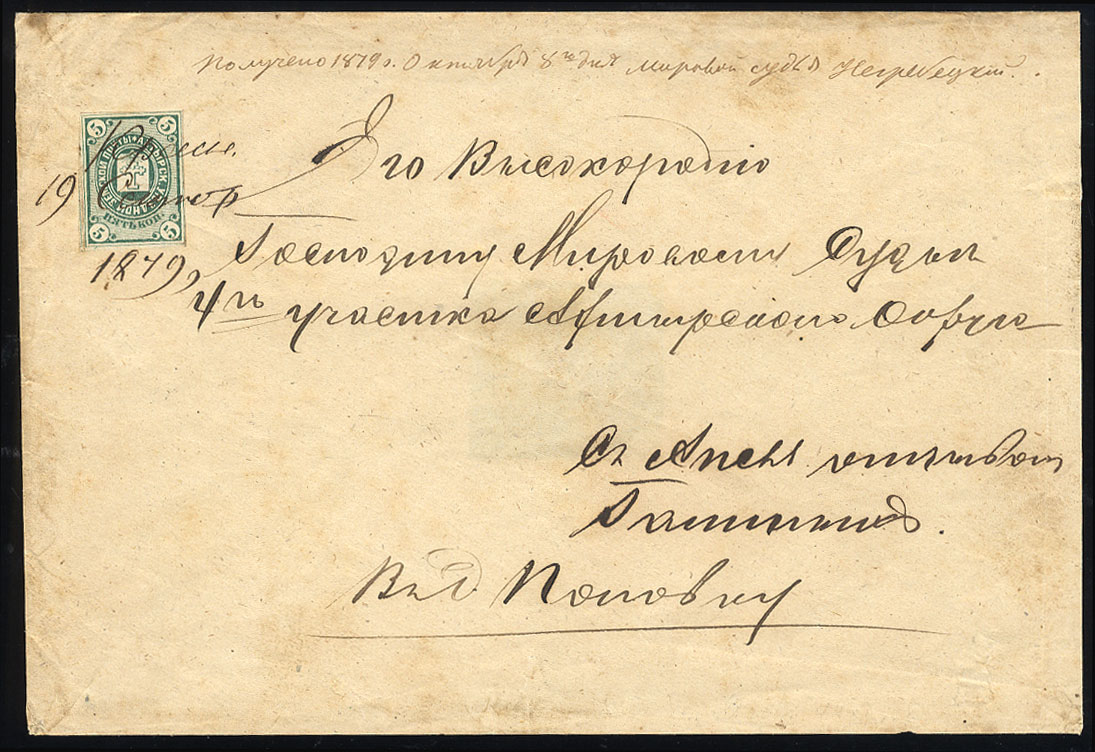 Zemstvo - Akhtyrka cover (Ex. Fabergé, Dr Nikitin sale, Cherrystone auctions): Realized 62500$
Regarding the regular Imperial and Soviet issues, a splendid Russia 1858 30 kopecks (Michel 4) on cover realized 46.000 euros at Feldman, a reasonnable price in comparison to a second similar cover, ex. Fabergé, offered at Cherrystone (but unsold at a starting price of 230.000$ - certainly too high for the current market). An unused copy of Russia #1, without gum but apparantly genuine (not one of those pen cancel removed) realized 650 euros, proof that some bargains are still possible (I was following the sale and I still don't understand why I didn't even try bid on that one...). Finally, and this is the bottom line of this post, 2012 confirms a high demand for quality items, or for anything that is 'special' on the postal history level. And my guess is that this strong tendancy will last long.
A picture being worth a thousand words, I let you enjoy below a personal selection of what the market offered us during this 2012 year. And I wish, albeit in advance, all of my readers a very Happy Christmas! May you all enjoy good health and happiness in 2013.
Soviet Union Postage Due 1925 - Scott J16A Major rarity of USSR: realized 18500$ (Cherrystone)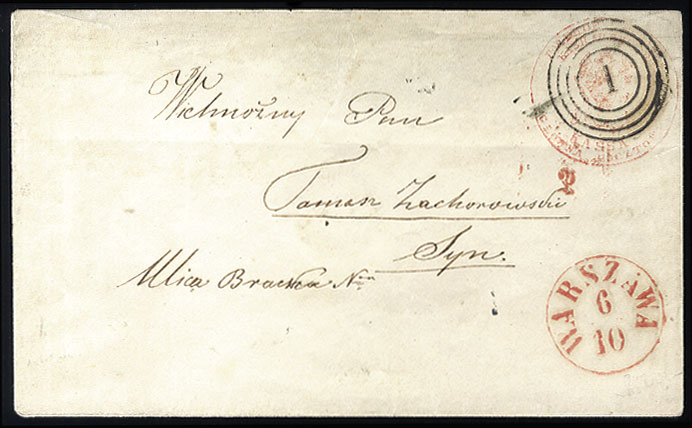 Poland Kingdom 1859 Postal Stationary issued for use in Warsaw between 1859-1861,
one of only ten used copies recorded, Ex Dr Kossoy: realized 5500$ (Cherrystone)
Imperial Russia 1848 - 30 kopecks Postal Stationary, very rare used copy from Moscow to Odessa, ex. Fabergé.
The 30 kopecks envelopes are great rarity when postally used: realized 10000€ (David Feldman)
Imperial Russia 1884 - 7 rubles Without Thunders used on the front part of an envelope from Warsaw to Berlin.
Very rare on cover, as most copies have been soaked off: realized 12000€ (David Feldman)
Soviet Union 1924 - Lenin Mourning issue, complete sheet of the 6 kopecks, third printing.
A small rarity, as only a few sheets have survived: realized 260€ (David Feldman)